During the lock down, nothing is happening at the Club Room. However, the Club is keeping in touch with its local memebrs using the local 70 cm repeater GB3TU. The net is on air twice a day using its call of G1RAF. The times are noon and 19 00 every day. Guest are always welcome to join us and as time goes on we get more and more poping in for a chat. All are welcome.
As there is not much else to report, there is a cunning plan. A lot of Radio Amateurs have been using their time in lockdown to renovate and update their shacks. This is where the plan comes in. Net memebers, including guest, have been askked to send in pcturs of their shack and what they have been doing.
These jottings will be known as Shack Exposè. The first offering comes from Laurie G1LNA and his notes are as follows:
Hi all,
This is the "shack"of G1FNA, Laurie. It consists of a Yaesu FT 857D, a Leixen VX 898s 25watt dual band for local repeaters etc and a bunch of handhelds including DMR.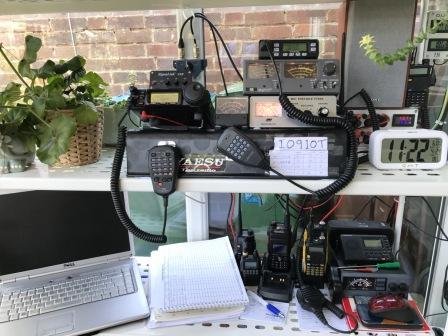 As you can see it's all surrounded by pot plants which make it a very pleasant working area.My antennas consist of a G5RV in a roughly north south line, a dual band 2/70 co linear at chimney height and a car type dual bander for the Leixen.
I also have a small 2 watt handheld in my shed come workshop, linked up to another car type 70cm antenna on the shed roof for GB3TU and GB3AV use when I'm working in shed.
RegardsLaurie G1FNA