Just a very quick update of what has been happening whilst the Club Room has been closed.
Dave GØKUC reports progress so far during the Club Room Closure. Operating has been carried out at several Club Members shacks. A full end of year report will be made. In the mean time, what has been achieved is as follows: So far this year we have logged 1902 contacts using G1RAF and 215 contacts using GX1RAF. 1149 for G1RAF since lockdown began.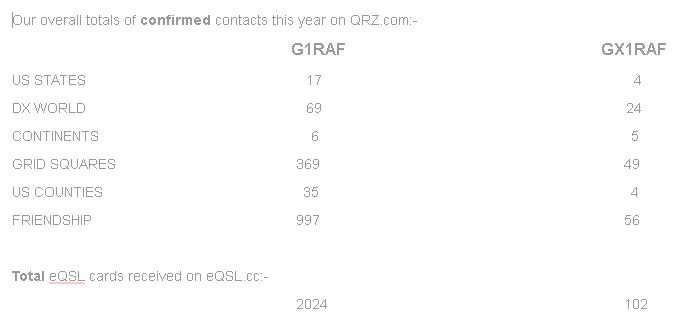 I haven't counted the paper ones yet.
QSL cards both paper and eQSLs are more or less sorted just a few of the older ones pre virus to be checked when I have access. All remote operating logs have been uploaded and are up to date. I have a small box full of paper cards to take to the Club once again when we have access.
The regular net on GB3TU continues and all are welcome to join in. Times: Midday 12 00 net is on Mondays and Saturdays Evening 19.00 on Mondays, Wednesdays and Fridays
Note: since March we have had 68 visitors to our GB3TU Nets.
The Net will Stand Down for Christmas as follows:
The last Net will be at 1900 on Wed 23rd December. The Net will resume from Friday the 1st Jan 2021 at 1900.